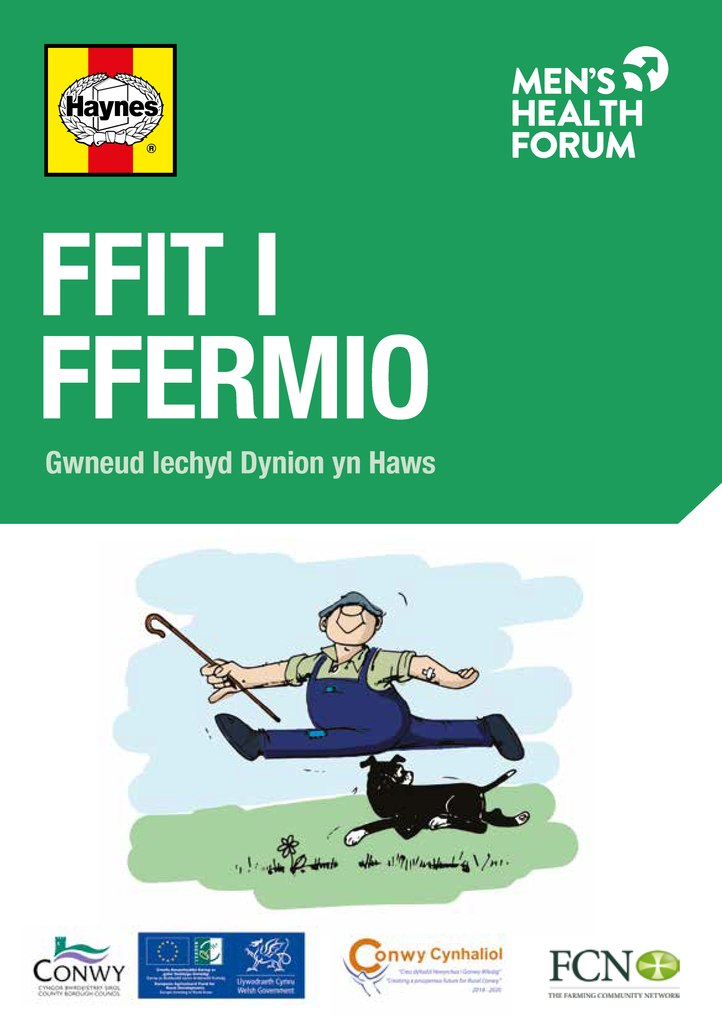 Ffit I Ffermio - Fit for Farming - 2 in 1: read in English or Welsh
One man in five will die before he reaches 65. And when the average age of a Welsh farmer is 60, that's a fact you can't ignore.
The mind and body of the farmer is the best bit of kit on any farm. With a little care, the high-performance machine that is the male body will run smoothly for a lifetime with just basic maintenance and minimal need for spare parts. This easy-to-read booklet will show you how to fine tune your engine, choose the right fuel and keep your mind on the road ahead. We'll explain the little changes that can make a big difference:
how to be good to your body
how to be good to your brain
how to handle the ups and downs
FFIT I FFERMIO / FIT FOR FARMING also includes details on all the common occupational health concerns for UK farmers from ticks and insect stings to asbestos and tetanus. 
The 2 x 40 page full colour A5 booklet has been developed by a team who know a bit about farming and men's health - in Welsh and English. Originally written by Dr Ian Banks, himself a farmer, it has been revised and redesigned in partnership with several farming and rural organisations including the Yorkshire Rural Support Network, the Yorkshire Agricultural Society, the Farming Life Centre (Blackwell, Derbyshire), the Farming Community Network and many others. The excellent cartoons are by farmer Henry Brewis.

Take a look inside the manual on our website.
All orders include free delivery.
If you would rather not order using a payment or credit card, but would prefer to use a Purchase Order, you can find details here.
---
---
More from this collection