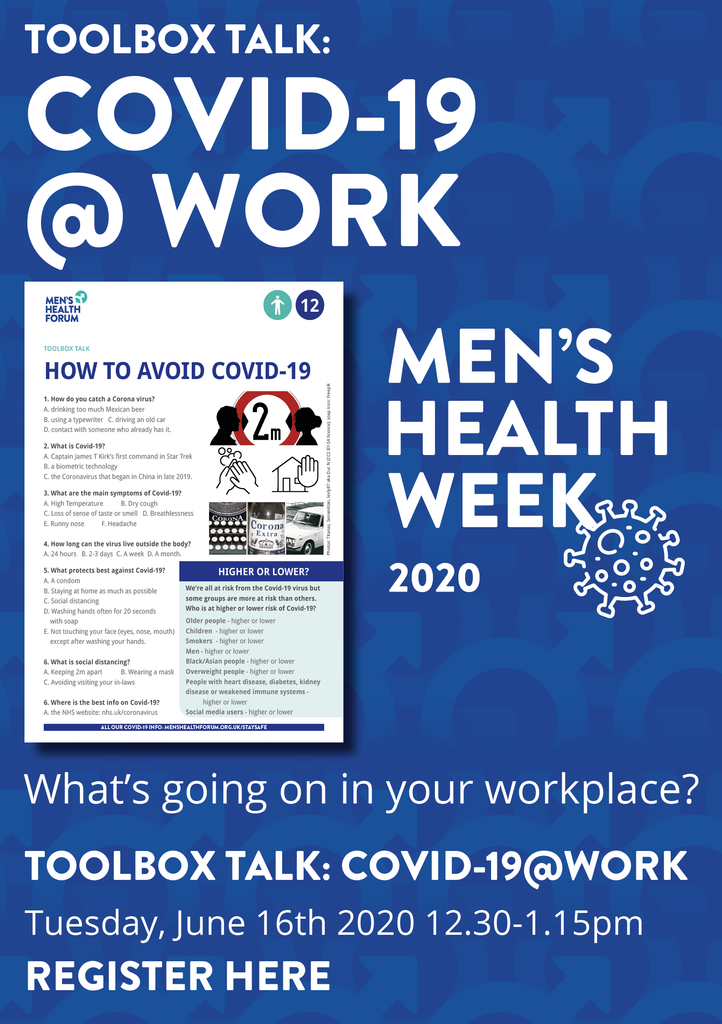 Webinar - Toolbox Talk online: work & COVID-19: Tuesday, June 16th, 2020 - 12.30-1.15pm
As we move into a 'new normal' living with and accommodating Covid-19, what are the issues that workplaces, employers and employees need to think about?
Our free toolbox talk on Covid-19 addresses this question. It also covers symptoms and how to avoid the virus. It takes about 15 minutes. We'll run through the talk online so that anyone can deliver it in their workplace and hopefully we'll also hear from you about the issues you're encountering in your workplaces.
Sounds good but what are toolbox talks?
Toolbox Talks aim to put the health back into health and safety. They're PDFs that you can print out and use in a variety of ways, Toolbox Talks are an easy way to get over key health messages in a short accessible manner. Originally developed for employers and team leaders, anyone can use them with any group of men to help all participants live and work more healthily. The Forum currently has 13 toolbox talks available and there are videos too.

Date: Tuesday, June 16th, 2020
Time: 12.30 pm
---
---
More from this collection