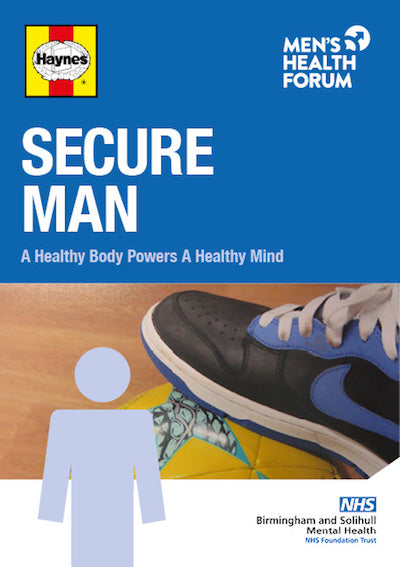 Secure Man
One man in five will die before he reaches 65, two in five before the age of 75. Not with Secure Man, a new physical health guide for men with mental health challenges requiring hospital care.
Developed by the Men's Health Forum in partnership with Birmingham and Solihull Mental Health NHS Foundation Trust (BSMHFT), service-users at the Trust's medium-secure units the Reaside Clinic and Tamarind Centre were involved at all stages of the production process. The 36-page full-colour A5 manual includes:
How to boost life expectancy through healthy eating and physical exercise
Taking care of your heart
Healthy eating advice and how to balance your diet
Physical activity and top exercise tips
Information about safe sex
Smoking cessation advice
All the tips, which were put together with the men at Reaside, are realistic and practical even for men living in institutions where healthy eating and exercise may be more difficult.
This 36 page full colour A5 booklet, written by Jim Pollard with additional text by Dr Nick Tarrant and Dr Rebekah Bourne and cartoons by John Byrne is full of simple, practical tips that will improve the health of pretty much anyone. Edited by Jim Pollard.
Secure Man: a healthy body powers a healthy mind.
Take a look inside the manual on our website. 
All orders include free delivery.
If you would rather not order using a payment or credit card, but would prefer to use a Purchase Order, you can find details here.
---
---
More from this collection