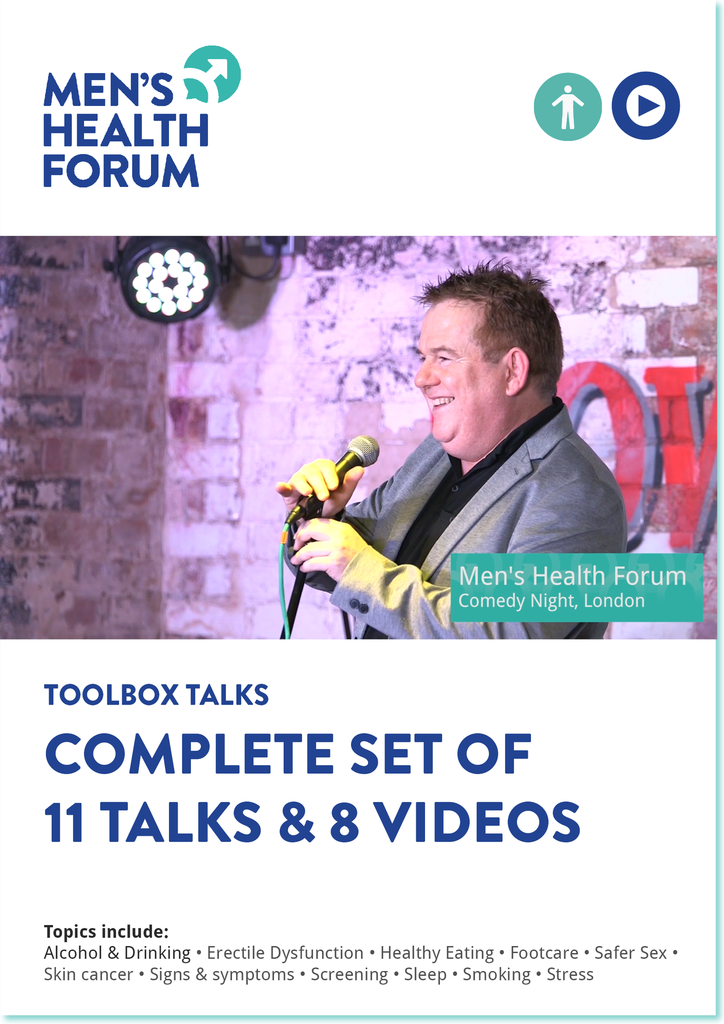 Toolbox Talks & Video - all 11 talks & 8 videos
Toolbox Talks & Videos are a new range of materials from the Men's Health Forum to help you put the health back into health and safety.
They're an easy way to get over key health messages in a short accessible manner and are a powerful conversation starter for conversations about men's health.
Originally developed for employers and team leaders, Toolbox Talks & Toolbox Talks Videos are designed to be used with any group of men to provide a fun and informative event lasting 15-50 minutes that will help all participants live and work more healthily. 
The full range of topics includes:
Alcohol & Drinking (includes video)
Erectile Dysfunction

(includes video)

Healthy Eating

(includes video)

Footcare
Safer Sex

(includes video)

Skin cancer
Signs & symptoms

(includes video)

Screening for older men
Sleep

(includes video)

Smoking

(includes video)

Stress

(includes video)
Each of the 11 talks comes as a 3 page PDF. The first page is designed as a handout containing a quiz, cartoon, photos and discussion points that will provide stimulus for any trainer regardless of their level of experience. Pages 2-3 provide all the 'answers' – a copy can be given to all participants or just used by the trainer to bring the session together around the key learning points. The How To Use PDF provides more information.
Each of the 8 videos is downloadable and can also be streamed full-screen on any computer with a suitable internet connection.  You can preview all 8 videos at the top of this page, or, if your browser doesn't support the plug-in, watch them all individually via this page.
If you're worried about having fast enough access to the internet, you can also buy all the Toolbox Talks and Videos on a 8GB USB stick.
---
---
More from this collection